Letter sent 11/06/06 .:. Go Up
Hey all -

Duggan is currently in the room behind me do the "Also Sprach Zarathustra" introduction to vector addition. Physics teaching is still fun for us both.
Last Spring, the other physics teacher at Tigard High, and I hosted a Physics Extravaganza that was quite successful, (http://tuhsphysics.ttsd.k12.or.us/Photos/05-06/Extravaganza/index.htm) we probably had 300 people milling about the commons doing things of questionable safety and educational merit - but having a good time.
Alum Ben Winegar is now the physics teacher at Canby High School - moving me just that much closer to my goal of global domination.
We now have 10 sections of physics, and still enjoy telling probably the same jokes that you heard when you were here. (Duggan is getting out Mr Birdhead as I type this- he calls him the penguin of disapproval)

Keenan and Caelan are 9 and 11 now: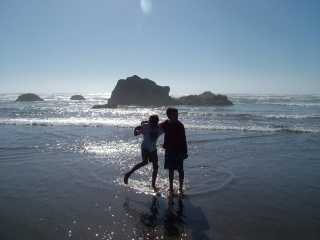 Caelan has been studying the Trumpet, believes in flower fairies, and was Hermione Granger for Halloween - complete with a S.P.E.W. badge, large book bag, and a wand that went "Swish". Keenan is learning the drums, is playing soccer, and was a mad scientist. (White wig/white shirt - Einshtein). This summer we went to a family reunion in Wisconsin.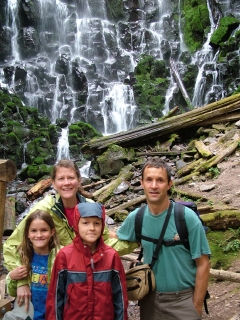 Stay in touch,
Murray
PS - Please include "Paris" in the subject line of your email if you respond to this. This will get you around my spam filter.